Walking Tractors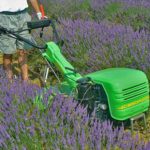 Walking Tractors by Casorzo Macchine Agricole S.r.l. are proper "work companions" that can be used for agriculture, horticulture and gardening. These machines are for working the terrain surface and are have a single axis; these are controlled by an operator on the ground and are equipped with rotating sections called millers. The main characteristics of these Walking Tractors are their versatility and ease of handling.
With Casorzo Walking Tractors, various jobs can be done: milling, ploughing, sowing, grass cutting, hedge cutting, snow clearance and much more… all with a compact machine that can operate in confined spaces otherwise unreachable with more bulky equipment.
Discover the entire range of Walking Tractors, entirely Made in Italy with the best materials by the Casorzo Macchine Agricole S.r.l. company of Tonco d'Asti, leader in the sector for over 50 years!
In the section below, you will find all the necessary information regarding use and technical specifications of our range of models, such as the Pony 15-R Walking Tractor
the CM80 Walking Tractor, and the Golf 2+2 Walking Tractor.  We also offer a wide range of accessories which can be added to our Walking Tractors.
For further information, or if you are interested in purchasing our Walking Tractors, please telephone us or fill out the contact form, without obligation, on this page, or on the page of the model of your interest. If not, come and see us directly! Casorzo Macchine Agricole S.r.l.
find us in Via Asti 31, Tonco d'Asti – 1439 – Piedmont – Italy.
Salva
Salva
Salva
Salva