Walking Tractor CM80
Walking Tractor CM80 is the biggest model of the range of machines produced by Casorzo Macchine Agricole S.r.l. It is made of a solid die-cast frame.
This machine was designed for professional and demanding use, so it can be chosen as the right solution for difficult use especially in rough places.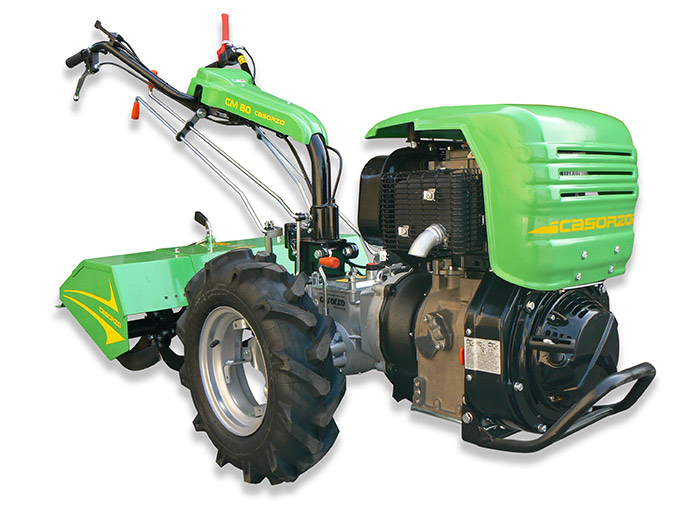 Being so versatile, the Walking Tractor CM80 allows the operator (farmer) to meet the need and the requirements of the activities of the working season, such as ploughing,ridging, milling in order to prepare the seeding bed, weeding, grass and bush cutting, side-delivery raking,potato crop, seeding, snow removal, street cleaning.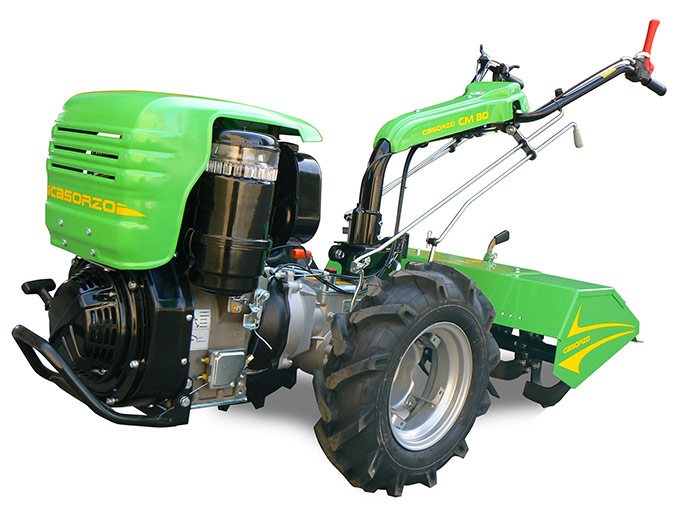 It has got a 6-shifting system ,namely 4 ongoing and 2 reverse as an engine-driven cultivator and 2 ongoing and 2 reverse as a mowing machine.
The aluminium change gear box is made up of in-oil steel  mesh gears and bearings that make the machine strong, reliable and long-lasting.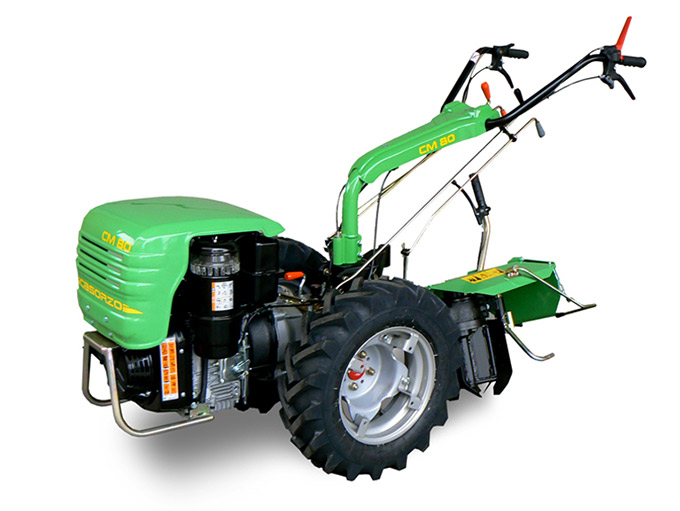 The wheel movement is independent from the one of the power takeoff to which the accessories are linked.
The differential locking device is off-the-shelf and it gives the machine a better maneuverability and floor adhesion.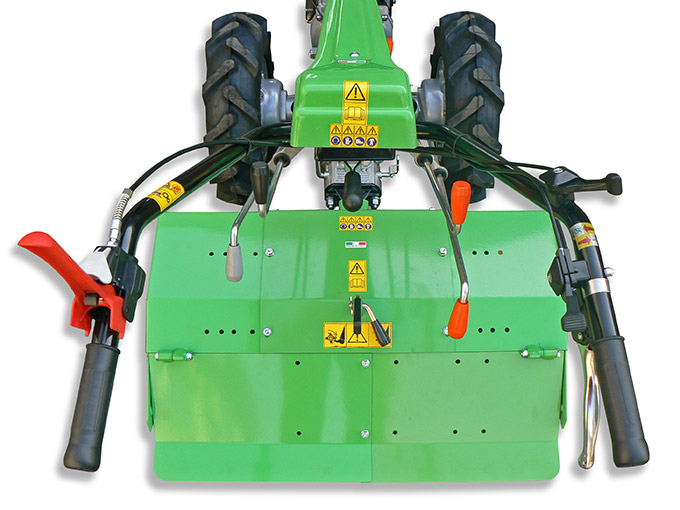 The standard rotary tiller of Walking Tractor CM80 is 80 cm wide and it is made up of 6 rows of steel hoes that crumble the land doing about 20 rotations each wheel revolution.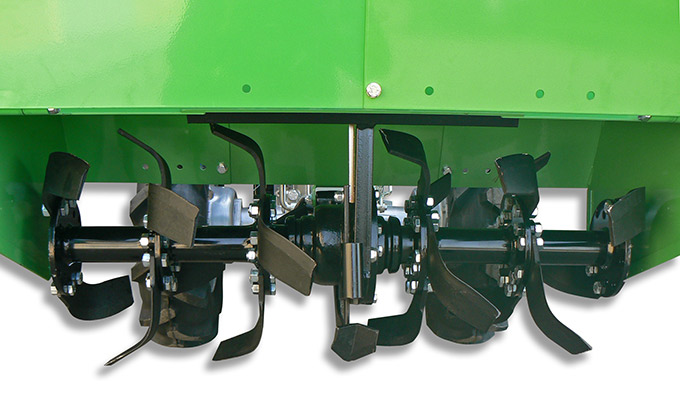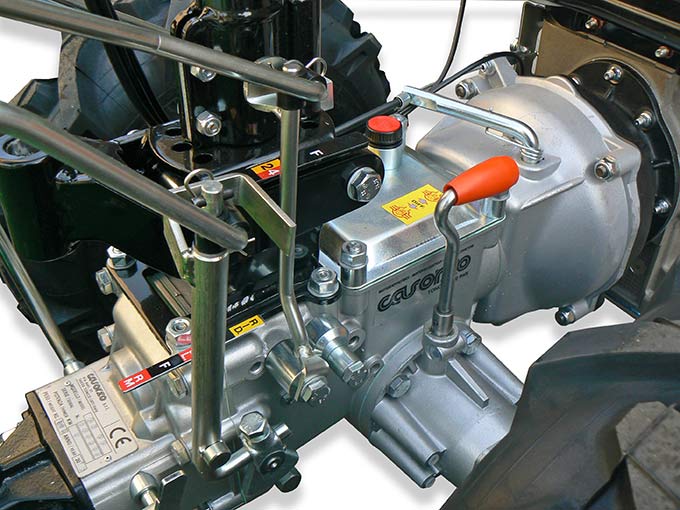 There are two power take offs, namely one is independent and with a 2-speed device aimed for the accessories and the other is synchronized for the use of a three-wheeled trailer.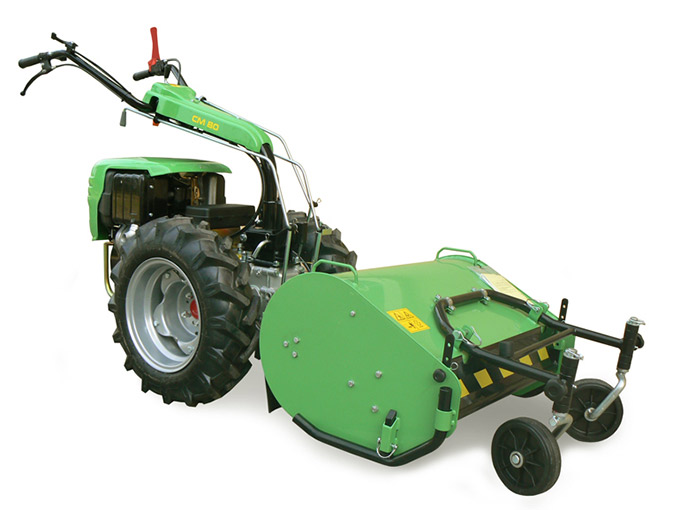 ---
CM80 Flail Mower
The fodder cutter is a very useful device and it is used to cut bushes, grass, brambles and brushwood.
It is equipped with rolls with y-shaped movable knives and a bevel-gear drive moved by an anti-dragging with double pulleys and indented belts.
The front supporting small wheels are pivot and adjustable to fix the height cut.
Different models are available with different working heights, from 50, to 60 or 70 cm.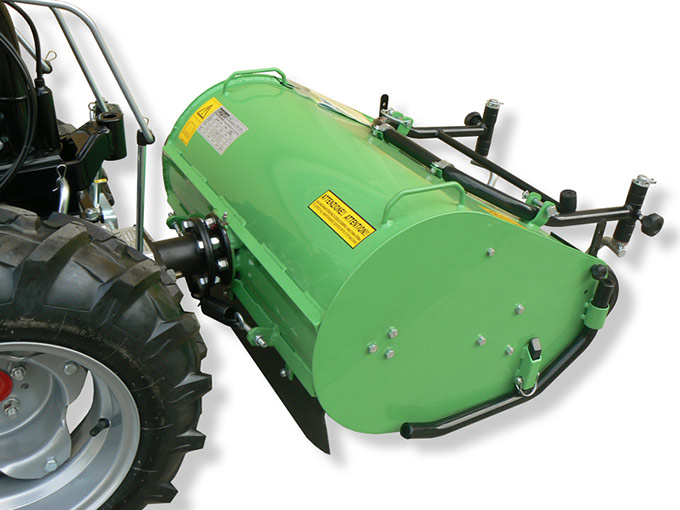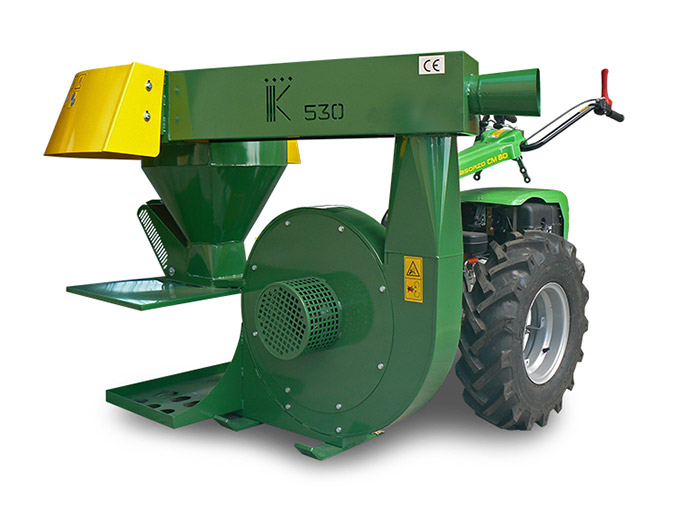 Implement for the picking from the ground of the hazelnuts.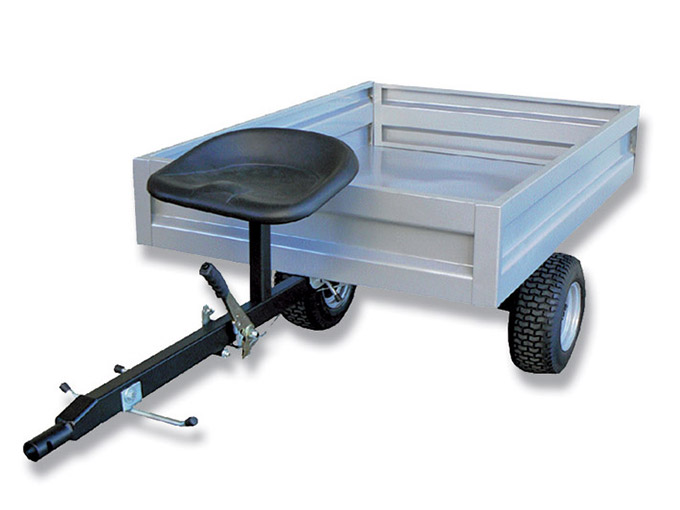 ---
Salva
Salva
Salva
Salva
Salva
Salva
Salva
Salva
Salva
Salva
Salva
Salva
Salva
Salva
Salva
Available motorizations
Kohler CH 440:
kw10,4 HP14 gasoline
Lombardini 3LD/510:
kw9 HP14 diesel
Lombardini 15LD/500:
kw8,8 HP12 diesel
Lombardini 15LD/440:
kw7,5 HP10 diesel
Lombardini 6LD/435:
kw7,3 HP10 diesel
Technical data
Starter:
Recoil starter – Electrical starting
Drive:
With oil bath gears
Gearbox:
With clutch engagement. The two wheels tractor version has 4 forward gears + 2 reverse gears. The mowing bar version has 2 forward gears + 2 reverse gears
Clutch:
Single dry disc with manual control
Standard rotary tiller:
Adjustable with x 4 tines with extension kits. Working width 780 mm
Working depth:
18 cm
P.T.O.:
A higher one (upon request) syncronised with the gearbox – one lower at 1028 rpm in clockwise rotation with engine at 3000 rpm
Mowing bar unit:
Model 2000 width cm 110 – 120 – 130 with oil bath transmission   –  Dense or semi-dense version width cm 110 – 122 – 137
Differential locking:
with locking device by lever on the handlebar
Service brake:
Brake drum (on request)
Wheels:
5.00-12 (with adjustable discs) 6,5/80-12 (with adjustable discs) Iron wheels (pair) diameter 46 x 12 cm.
Speed:
Walking tractor version wheels 5.00-12 1 st gear 1,2 km/h, 2nd gear 2,4 km/h, 3rd gear 3,4 km/h, 4th gear 7,1 km/h 1 st reverse gear 1,7 km/h, 2 nd reverse gear 3,5 km/h
Handlebar
Height and side adjustment, reversible
Safety devices
Active clutch reverse speed PTO cut-out
Weight
200Kg
Available implements
Single furrow plough, furrower plough, disc rotary plough, vertical axis rotary plough, potatoes digger, rotary tiller, flail mower, bio-shredder, rake, trailer, sweeper, central cutter bar, snow blade, snow turbine, grass cutter, turn-wrest plough 180°