Motor Hoes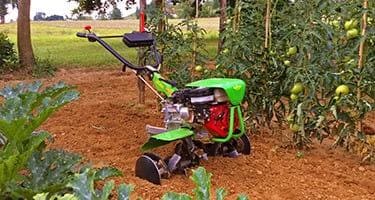 Casorzo Macchine Agricole S.r.l. Motor Hoes. Our company was the first in Italy to design and produce motor hoes, also called rotavators. Since then, the motor hoes have evolved by having continuous technical improvements applied to them, giving what is today a machine at the top in its category, and durable over time. The Motor Hoes are designed with a 60° inclined cutting blade to optimally distribute the weight of the machine and to avoid bogging down on sandy terrain. The gearbox is entirely made up of gears made from high quality nickel steel, chromium and molybdenum, giving the machine increased wear resistance against dynamic friction. The CU7 motor hoes have a wide range of motor choices, among which for the petrol versions: Honda and Kohler from 6 to 9 horsepower. Whereas for the diesel versions: Lombardini from 5.5 to 10 hp.
Discover the entire range of motor hoes, entirely Made in Italy with the best materials by the Casorzo Macchine Agricole S.r.l. company of Tonco d'Asti, leader in the sector for over 50 years!
In the section below, you will find all the necessary information regarding use and technical specifications of our 3 models in the range, from semi-professional use to professional use, such as: CU7 gasoline, CU7 diesel and CU20
For further information, or if you are interested in purchasing our motor hoes, please telephone us or fill out the contact form, without obligation, on this page, or on the page of the model of your interest. If not, come and see us directly! Casorzo Macchine Agricole S.r.l.
find us in Via Asti, 31 a Tonco d'Asti – 14039 – Piedmont – Italy.
Salva
Salva
Salva
Salva
Salva