Transporters – Mini Dumper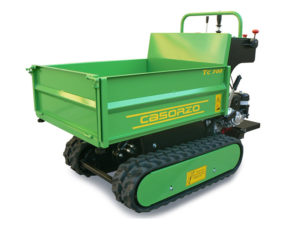 Casorzo Macchine Agricole S.r.l. Transporters – Mini Dumpers are professional machines, entirely designed and built in Italy; they can be used both in the agricultural and building industries.
Discover the entire range of our mini dumpers, entirely Made in Italy with the best materials by the Casorzo Macchine Agricole S.r.l. company of Tonco d'Asti, leader in the sector for over 50 years!
In the section below, you will find all the necessary information regarding use and technical specifications of our 2 Transporters – Mini Dumpers. Casorzo Macchine Agricole's two motorised mini dumpers differ from one another for their different characteristics: from the size, to the transmission, and the gearbox. The TC 500 Mini dumper is fitted with a hydraulic gearbox featuring a gear pump, whereas the TC 700 Wheelbarrow has a hydrostatic transmission with a variable capacity pump. Both our motorised mini dumpers can be equipped with dumper or agricultural hoppers with flip-down platforms.
We also offer different types of hoppers which can be attached to our mini dumpers, indeed both models can be fitted with both the Dumper and Agricultural type hoppers with flip-down platforms.
Motors available: Honda for the petrol version and Lombardini for the diesel.
For further information, or if you are interested in purchasing our mini dumpers, please telephone us or fill out the contact form, without obligation, on this page, or on the page of the model of your interest. If not, come and see us directly! Casorzo Macchine Agricole S.r.l.
find us in Via Asti, 31 a Tonco d'Asti – 14039 – Piedmont – Italy.
Salva
Salva
Salva
Salva
Salva
Salva
Salva
Salva
Salva