Transporter TC 500
The Transporter TC 500 is a professional transporter, very sturdy and versatile, suitable for carrying all types of materials for agriculture, forestry and construction industry.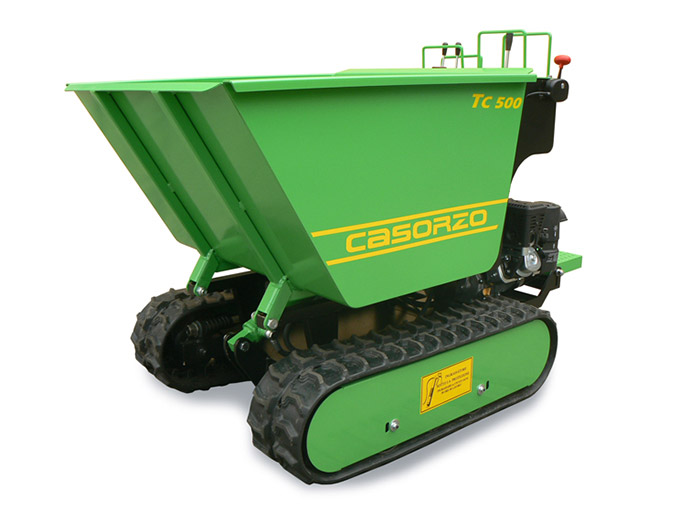 Built with a sturdy high-resistance steel frame, it can be equipped either with Dumper or agriculture platform, depending on the area of use.
Both types of platforms are equipped with hydraulic tipping system and guarantee a loading capacity of 450 kg.
The Transporter TC500 of Casorzo Macchine Agricole s.r.l. features a hydraulic transmission gear and is operated via two levers that allows you to adjust the speed and the direction of the machine.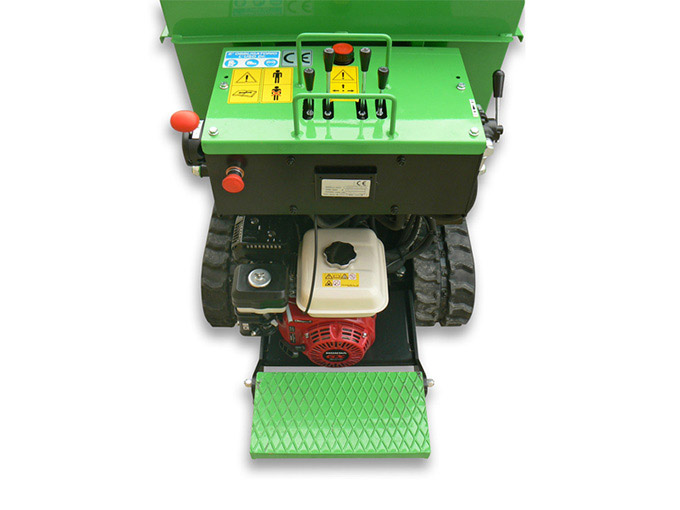 The machine is equipped with cutting-edge engines, very powerful and energy-efficient, available in both petrol and diesel versions.
Salva
Salva
Available motorizations
Honda GX 270:
kw6,6 HP9 gasoline
Technical data
Starter:
Recoil starter – Electrical starting
Dimensions:
Width: 700 mm – Length: 1400 mm – Heigth: 1200 mm
Gearbox:
With hydraulic transmission
Speed:
4,5 Km/h
Carrying capacity
450 Kg
Platform:
Dumper or with collapsable sides
Tipping:
Hydraulic
Steering:
Independent with tracks
Frame:
Is characterized by a robust supporting steel structure
Weight
320 Kg
Safety devices
The device is accordant with the new CEE regulations
Available implements
Splatform with collapsable sides or dumper – Loading shovel – Concrete mixer