Lawn Mowers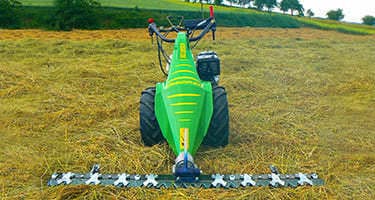 Casorzo Macchine Agricole S.r.l. Lawn Mowers are highly manoeuvrable agricultural machines used for cutting grass and haymaking. They are true "work companions", fitted with a milling bar at the front with an oil bath transmission that allows for efficient cutting without difficulty, even on tough terrain or on inclines. They are beautiful machines! These machines boast a wide range of options for any requirement, such as the possibility to fit double wheels, spacers, and different types of high-performance milling bars. The motors used for the lawn mowers are the following petrol models: Honda and Kohler from 6 – 9 horsepower and the diesel versions by Lombardini, from 5.5 to 10 horsepower.
Discover the entire range of Lawn mowers, entirely Made in Italy with the best materials by the Casorzo Macchine Agricole S.r.l. company of Tonco d'Asti, leader in the sector for over 50 years!
In the section below, you will find all the necessary information regarding use and technical specifications of our 4 models in the range, from semi-professional use to professional use, such as: Golf-F, the P150-R, the P150-R Superior and the FT 580
For further information, or if you are interested in purchasing our lawn mowers, please telephone us or fill out the contact form, without obligation, on this page, or on the page of the model of your interest. If not, come and see us directly! Casorzo Macchine Agricole S.r.l.
find us in Via Asti, 31 a Tonco d'Asti – 14039 – Piedmont – Italy.
Salva
Salva
Salva
Salva
Salva
Salva
Salva